The Atari Portfolio was a small portable computer released in 1989 for about $400 (about $990 in 2023). I consider it one of the many distractions that kept Atari from focusing on any one product, but at least this particular product was not too big of a distraction.
The Portfolio was developed by an outside firm, DIP, and primary sold and marketed by Atari.
The Atari Portfolio is considered the first palmtop computer and it is about the size of a small paperback book. At the time it was referred to as being the size of a VHS video tape, if you remember what those were.
Join 2200+ other Atari enthusiasts and sign up for the free Goto 10 newsletter today!
I was able to pick up a Portfolio system recently on eBay for a fair price and here are my observations.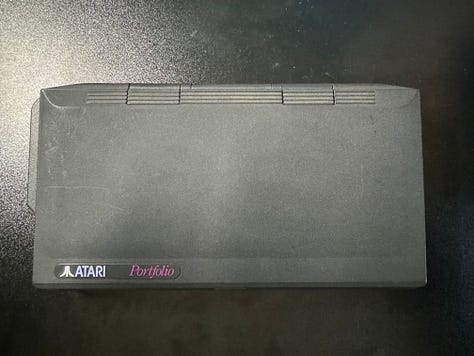 The Portfolio itself is a 8088-base computer with 128K of RAM with a 40 character by 8 line display. The display is not back-lit so it needs a fair amount of ambient light in order to see it clearly1. It runs DOS from ROM (DIP DOS 2.11, which is mostly compatible with MS-DOS) and uses a portion of the built-in RAM as a hard drive.
The Portfolio runs on 3 AA batteries (or a DC adapter) and weighs a little over a pound. It feels kind of chunky and dense in my hands.
The plastic is a charcoal gray/black and has a nice feel to it, although it does seem to pick up scratches easily. It is a clamshell design and the hinge on my unit (and most from what I hear) is incredibly stiff. It squeaks a lot when opening and it must be opened slowly or else it feels like it would snap right off.
The keyboard is small and chickley-style, but is not bad. It is far too small to touch-type on, though.
The Portfolio has several built-in app: Address Book, Calculator, Diary, Text Editor, Setup, Worksheet. They are all simple, DOS-style apps from the time and can be easily called up by using the Atari key along with a shortcut key on the keyboard. For example, Atari-E opens the editor.
I am pleased that my Portfolio also came with the full 250 page Owner's Manual, which has been fun to flip through. It is reasonably well written and describes all its features and the built-in apps. It also came with a small Quick Reference Card. I haven't found the card online, so I took a quick scan of it which you can download below.
Apparently there was also a smaller 85-page Owner's Manual released in 1991, where the Portfolio was referred to as "The Super Organizer", which seems to undersell its capabilities.
Sadly the Portfolio does not have a built-in programming language. This thing would have been wonderful with a built-in BASIC. Apparently there is something called PowerBASIC that is available for it, which I have to investigate further.
The Portfolio is a bit strange in that it has no permanent storage. Everything is stored in RAM, so when you save a file it is stored in the RAM of the unit that is used as the hard drive. If the batteries were to die, then you'd lose your files. However, the batteries can be replaced without losing files — there must be a capacitor in there that allows for a quick swap without losing power completely.
A slot on the left side allowed the Portfolio to use "memory cards" for storage, but these are unusual and also not permanent. Rather than static memory, these are actually RAM cards and are powered by a small button-cell lithium battery. When the battery dies, you lose whatever is on the card. The battery can be changed while the card is plugged into the Portfolio so that its contents are not lost, however.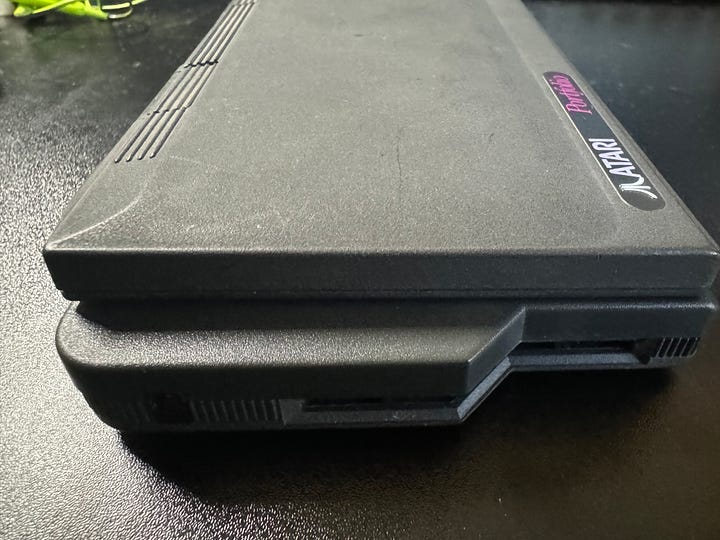 The RAM cards that I have are all missing batteries and one of them has come separated from the plastic back so it will no longer fit in the slot. I have ordered batteries and can't wait to see if I can get that giant 128K card working!
I believe Atari did make a card reader that could plug into the PC, but those appear to be rather rare today.
There were also ROM cards that could plug in, but from what I can tell few of these exist. I have the File Manager/Tutorial card.
Speaking of which, the other accessory that my system came with is the Portfolio Smart Parallel Interface. This rather large thing plugs into the expansion slot on the right side and provides a 25-pin parallel port. At the time, this would connect to a computer's parallel port (used for printers back then) and with included PC software could be used to transfer files between a PC and the Portfolio.
No modern computer has a parallels port, so this is not all that useful at the moment. This also means that I don't have a way to transfer anything to the Portfolio just yet.
However, I do have an Atari Mega STE which does have a parallel port. I'm still researching if there might be a way to use the STE to transfer files to the Portfolio. Stay tuned.
There was also a similar Serial Interface add-on that might be more useful with modern computers, but I have not yet found one of those.
So far I have not really found much use for this and the inability to easily transfer data to or from it certainly makes it less useful than it might otherwise be. But it is incredibly cool-looking and I am pleased to add it to my Atari collection.
And of course, in case you haven't seen it, this is the famous "Easy Money" scene from Terminator 2 where a young John Connor uses an Atari Portfolio to hack an ATM:
1
Apparently there are backlight mods, but those are beyond my skills at the moment.